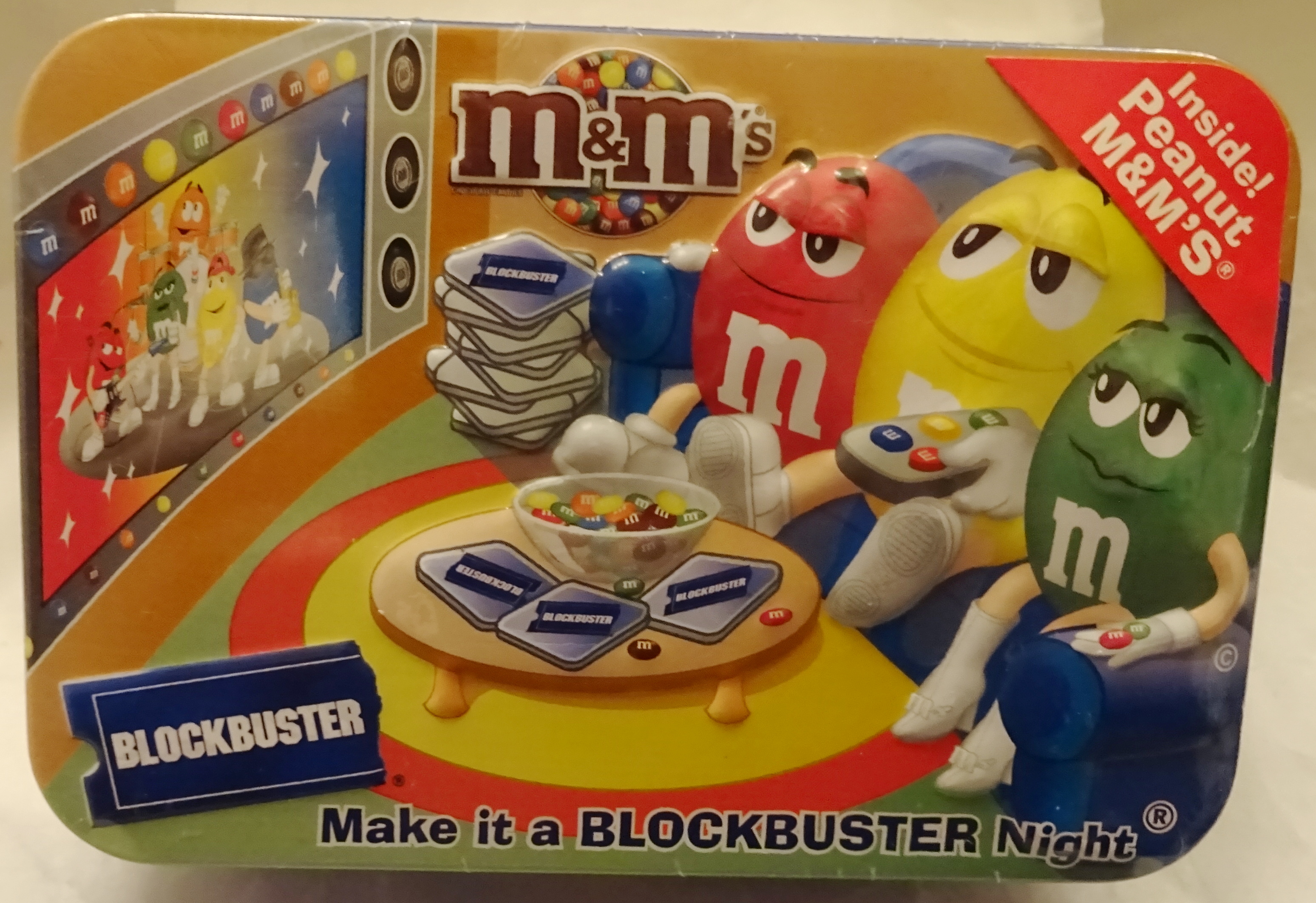 Product Description For M&M's Blockbuster Collectible Tin:
This listing is for one NEW SEALED IN PACK:
M&M'S  M & M'S 
BLOCKBUSTER COLLECTIBLE TIN NEW
LET M&M'S HELP YOU BRIGHTEN YOUR DAYS AND HELP YOU START YOUR DAY. 
ALSO,  FRONT OF TIN SHOWS RED YELLOW ANDGREEN M&M'S WATCHING M&M'S ON TV.
IN ADDITION, FRONT HAS "Make it a BLOCKBUSTER Night" PRINTED AT BOTTOM.
MOREOVER, TIN IS ABOUT 4 X 2.75 X 1.25 INCHES.
DEFINITELY, AGES 6 AND UP. 
NOTABLY, OFFICIAL LICENSED M&M'S PRODUCT AND @2009 BLOCKBUSTER INC.  
FINALLY, MADE IN CHINA.
Background Information For M&M's:
M&M's are "colorful button-shaped chocolates."  Importantly, the letter "m" is printed in lower case on one side of each, surrounding a filling which varies depending upon the variety of M&M's.  In fact, M&M's filled the original candy with milk chocolate.  Later, upon introducing other variations, M&M's branded the original as the "plain" variety.  Indeed, M&M's introduced as the first variation "Peanut" M&M's, which feature milk chocolate coating a peanut, and finally a candy shell.  They remain a regular variety.  Further, M&M's introduced numerous other varieties.  Regular widespread varieties are "peanut butter", "almond", "pretzel", "crispy", "dark chocolate", and "caramel".  Others are limited in duration or availability.
M&M's is the flagship product of the Mars Wrigley Confectionery division of Mars, Inc.  Noteworthy, Mars originated M&M's in the USA in 1941.  Over 100 countries sell M&M's since 2003.  Actually, Mars produces more than 400 million individual M&M's every day in the USA.  Moreover, Mars produces them in different colors.  Some colors have changed over the years.  In fact, a method used to allow soldiers to carry chocolate in warm climates without it melting inspired the M&M's concept.  Indeed, the company's longest-lasting slogan reflects this: "Melts in your mouth, not in your hand."  A plain milk chocolate M&M weighs about 0.91 grams / 0.032 ounces.  It has about 4.7 kilocalories (kcal) of food energy (1.7 kcal from fat).
Disclaimers For This M&M's Blockbuster Collectible Tin:
We enlarge photos to show details.
Also, color of tin you receive may vary from that shown due to different dye lots. 
Tin has minor shelf wear including chips, nicks, and scratches.
Do not eat Peanut M&M'S from this tin as they are past the expiration date!
DEFINITELY, NOT FOR CHILDREN UNDER 6.
Surely, this M&M's Blockbuster Collectible Tin New is a great gift for yourself or someone else.
Our supply is extremely limited.
BUY IT NOW!!!
100% GUARANTEE OF AUTHENTICITY.
For more M&M'S products click here.
Please be sure to ask questions before buying so you are completely satisfied with your purchase.
This listing includes free shipping to USA by USPS First Class Mail with delivery confirmation.